In three dimensions we are already today printing implants, aircraft parts, and in some cases even clothes and food. More and more areas are moving towards this technology. Researchers also believes that it will soon be possible to print fully functioning body parts with the same method.
Today around 825 patients in Sweden needs donated organs as of January 1 2016. Further 1.5 million people are enrolled in the donation register, but still it is not enough to cover the need. Several million are added every year on research to find alternatives to organ transplantation. One hope is in the 3D printer which layers by layer can create the products of future.
Joakim Ålgårdh, researcher at the SP Sweden Technical Research Institute, says that 3D printers are already used in the medical and aerospace industries. In Australia, the world's first aircraft engine was recently printed in 3D. Over 50 thousand pieces of hip implants have been implanted in humans and 3D printed implants for teeth, skull and hearing devices are also common.
- All people are different and using 3D scanning give us the ability to customize implants in patients. The majority of hearing devices is created using this method today. Within the aviation technology scene there are problems with casting complex parts, but with 3D printing it will be easy, he says.
The doctors can scan the ear directly and print multiple pieces of unique implants at once. Previously, they had to make an impression and casting the models. Through 3D printing very little material is wasted. 3D printing works with many different materials, such as metals and plastics. It is even possible to print tissues of living cells to reproduce means.
Earlier a scaffold of biodegradable plastic was needed and 3D printed while cells then was applied on it to grow. The newest technology is a 3D bioprinter that allows print position of the scaffhold while human cells is cultured at the same time. This is done by allowing the printer having two different print heads and layer by layer printing both the position and the cells at the same time, in a sterile environment.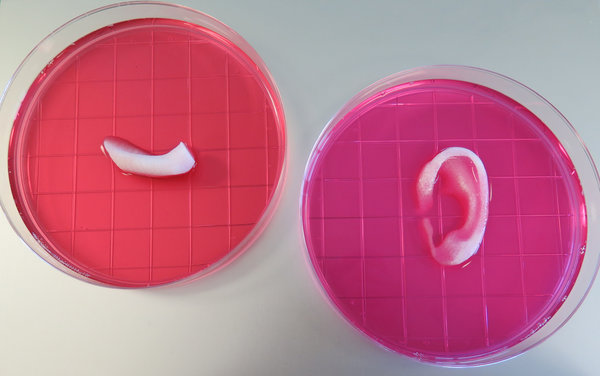 Paul Gatenholm, at Chalmers University,Gothenburg, Sweden, leads a research group that focuses on Biogel needed for 3D printing of biological material.
- The cells are floating around and to be built with they need to be mixed with a gel of cellulose and another biopolymer. Then you can print very fine structures so that oxygen and nutrients enter the cells and they can grow in three dimensions.
It is these cells which can then be tissue in the right environment. The research is focusing on skin, cartilage, fat and bone. More complex organs like the brain, heart and liver need a lot more knowledge. How functioning blood vessels needs to be formed is one of the major problems that needs to be solved.
- All bodies are different. Every cell in the liver, for example, need the supply of blood and oxygen, so it is very difficult to make a liver compared to an cartilage that do not even have blood vessels. You need to know how to design every cell in the body. It is not impossible, but right now it's a very early stage, explains Paul Gatenholm.
    "If one 3D prints food of flour it will makes it easier for those with chewing and swallowing difficulties. And one would also replace the flour towards more sustainable options such as insect flour, so it's even better."
Researchers at Wake Forest in North Carolina, USA, published earlier in February, an article in Nature Biotechnology related to similar research that Paul Gatenholm's team. The research team has implanted 3D printed tissues in mice and rats. In the tests, their
scaffolding for the organ in biological plastic was broken down and built up by the natural tissue. The researchers also found that blood vessels and nerves grew into the implants, according to the study. Professor Anthony Atala, the researcher behind the study, hopes that the same technique will work in humans, according to the BBC.
So far, the research is only made in animal models but Paul Gatenholm has big plans.
- We have visions that the method will soon come to the clinics. Today, plastic surgeons use pieces of tissues to build more tissue, but in the near future, we hope that we can 3D print tissue on demand.
Recently a research fraud was revealed from one of the leading surgeons in cultivated biological material, Paolo Macchiarini. He has been criticized for trying to grow cells on plastic, and not letting them grow longer than a few days.
- Cartilage needs for example two months to grow and cells cannot even grow on plastic because they need oxygen and nutrients, says Paul Gatenholm.
Further, it requires several billion cells to form a whole organ and when an organ is missing then the cells are missing. Therefore, there are lots of research on stem cells. Stem cells are the only cells that can be propagated without losing part of their DNA. Once propagated, they can be differentiated, that means, it can be made to specific cells for example, the liver.
- There are endless possibilities with stem cells and 3D bioprinting. Above all, we want to use this method to repair damage that damaged knees and joints, where cartilage parts are missing, says Paul Gatenholm.
Induced pluripotent stem cells are cells that are programmed to go back to an earlier stage where they are unspecified, like stem cells. Scientists do not know where in the body they go at implantation. It is suspected that they may cause tumors and that's why scientists do not want to use them in implantation.
- But right now, the most interesting stem cells is found in the fat where they are not that difficult to re-produce to bone or cartilage, and there has been no evidence of cancer.
Another controversial area is the 3D-printed food. Annika Grälls at Örebro University, Sweden is leading a project on 3D-printed food on how combining large-scale cultivation of insect works. Worms, grasshoppers and insects have recently been introduced in Sweden as potential food for the future. The world population is growing and so the need for food, while we greatly need to reduce our climate impact.
- If one 3D prints food of flour it will makes it easier for those with chewing and swallow difficulties. And one would also replace the flour towards more sustainable options such as insect flour, so it's even better, says Annika Grälls.
The furniture giant Ikea's research laboratory "space 10" in Denmark launched late last year, a meatball project to illustrate how the meatballs could look like in 20 years from now and focuses on climate-friendly and sustainable ingredients. Some of the proposals include artificial meat, algae, insects, and right 3D printed meatballs. Space 10 is currently putting up a 3D lab to print food in three dimensions.
Source:
////////////////////////////////////////////////////////////////////////////////////
If you like our posts and want to get update with more exotic 3D printing news,
1. Like us at www.facebook.com/3dfilamenta
2.Follow us at www.twitter.com/3Dfilamenta
3. Follow us at https://plus.google.com/+3dfilamentaofficial
"Together we will create a online center for 3D printing"
////////////////////////////////////////////////////////////////////////////////////