Intro
Wi-Fi Module add-on for CBD Chitu V3.6 Controller board (and higher). This Wi-Fi module let your 3D printer equipped with CBD Chitu controller board become wireless. By using this add-on module you will have the possibility to send file through Wi-Fi and control your 3D-printer through Wi-Fi.


The Wi-Fi protocol 
Currently the ChiTu Wi-Fi module uses the ESP8266 chipset as a cost-effective wireless networking module. The chip is specifically made for the needs of wireless connectivity and development regarding 3D printing and is a complete and self-made system of Wi-Fi network solutions.
CBD have spend around one year to continuously optimize the transmission speed and stability to 1M / S and is now fully meeting the performance requirements of the 3D printing industry.
The Wi-Fi protocol is open for all users, if you have a separate enterprise communications requirements, please contact us


With the open Wi-Fi protocol it allows 


1. The development of your own APP.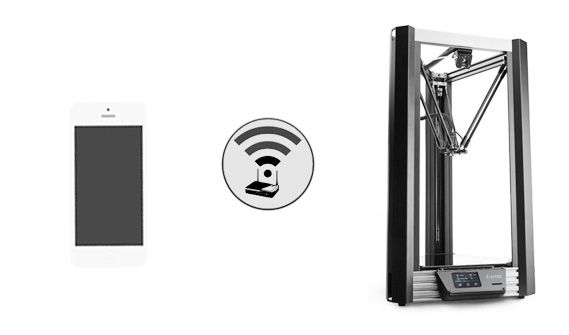 2. The development of your own PC-side application software (section software integration wireless transmission, etc.).

3. The development of network teaching, cloud print service center, centralized control batch printing software


APP
With included app for Android and IOS you can now print all wireless. No personal computer is needed.

(Observe! english version of IOS app is still in development)

If you can not download with QR code, please use the download section at the bottom of this page to download the Android app. For IOS app download it at: http://fir.im/cbd3d


Software
Chitu software comes in two versions, one for consumer market (Chitu HB) and one for enterprise market (Chitu Pro).

Chitu HB is a software developed by CBD-tech, with this software you can control and overview lots of 3D printers if it is equipped with the CBD Chitu controller board and Wi-Fi. The software have limitation on how many printer you can use at one time.

Chitu Pro is on the other hand not limited to any printers.  With this software you can control and overview a dozen of 3D printers if it is equipped with the CBD Chitu controller board and Wi-Fi. Only your router limits how many printers you can control at one time.  

The two software is still in development and we will release it very soon for the international market with English language. More information will come shortly.
Certification
SGS (ready for export world wide)
Installation
Please download manual as attached.