"The ChiTu 3D printer board is specially made for manufacturer that want a stable 3D printer controller board that actually works without bigger problems or lots of trixing, it is a commercial product with concentrated customer service regarding the hardware and the software around it"
"ChiTu controller board is easy to use and easy to install. With the Wi-Fi module add-on you can now print all wireless with the included Android and Apple IOS app! You can even use the CBD software to mass print very easy."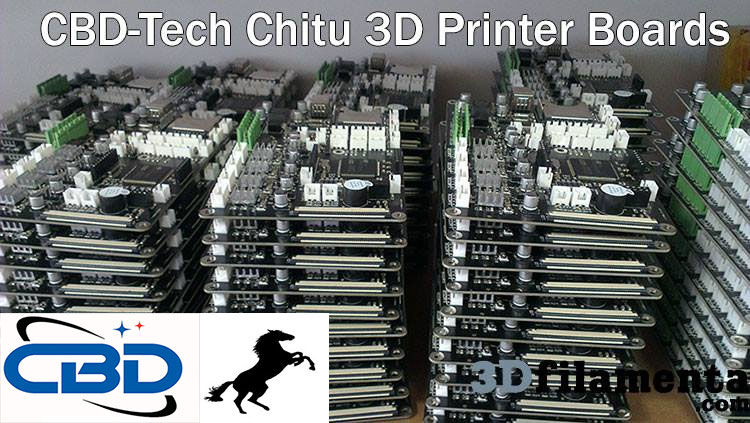 "100% satisfied customer service and 100% quality guaranteed"



"Full color touchscreen included!"
Important updates
2016-09-09
CBD have made a better introduction how to use the Chitu board.
Here is a short guide how to start and using your Chitu Controller Board (applies for all CBD Chitu boards):

http://www.chitu3d.com/how-to-use-the-chitu-3d-printer-controller-mini-v5-4-to-build-a-small-desktop-3d-printer/
2016-07-22
Broken links to CBD-Tech official download and support page is updated and fixed.
2016-07-09
- If you bought your product from a buyer outside of 3Dfilamenta webpage, please contact the customer service from the buyer. 3Dfilamenta no longer provide customer service if you did not buy the product from 3Dfilamenta.com
- CBD 3.6 have been updated to CBD 3.9. Changes= improved program
- CBD-Tech released a new homepage for Chitu: www.chitu3d.com 
- Chitu HB and PRo are released, you can download it here along with Chit´s other software:
http://www.chitu3d.com/archives/287
OBSERVE: The blue connector is just for reference only, the board comes in green usually.
There is no difference between the green or blue connectors.
Exclusive distribution 
We are the only official main distributor for this product for international market outside China. If you want to become a exclusive distribution partner for this product in your country, please contact us for more information.
Add-on Services


Different manufacturer have different customizations, we understand that.
With our add-on service we provide customizations services related to 3D printing.
For example, we provide services such as:
- implementation of your design to the ChiTu interface
- add extra function to the ChiTu firmware
- make and customize APP or PC software
- other software and hardware related service related to 3D printing, not necessary bounded to the ChiTu controller board

Please contact us for more details. 
Product Feature
√ Support Color Touch Sceeen with no lag
√ ARM STM32 Microprocessor
√ Allegro A4988 Motor Driver (1/16 microstepping) (compatible with others external driver)
√ Compatible with most structures (Delta/Hbot/cartesian)
√ Auto leveling  (Delta/Hbot/cartesian, built in the firmware)
√ Uses the self developed ChiTu firmware with important data and settings (closed source)
√ Uses configuration file to anchor the firmware, setup your printer without worry to damage the firmware.
√ Very stable, it can endure long print hours (tested 72h)
√ Optimized PID parameters in the firmware
√ 12/24V Compatibel!
√ Not limited to any print size, build as big printer as you want!
√ Compatible With 5 motors!
√ Upgradeable design letting you add extra hardware to your 3D printer board(from V3.6)
√ With power module add-on it support breakpoints (pause & print, save and continue printing next day)

√ Limit switches (not included) can be used to achieve broken filament detection and automatic leveling
√ Support Wi-Fi- with the Wi-Fi-add-on you can equip your ChiTu to become wireless. Controll and print all wireless
√ Includes Android and IOS app (english version ni devlopment) for Wi-Fi control.
√ Supports bilingualism- English and Chinese (our add-on-service let you change the interface to your local language)
√ Compatible with Simplify3D, Repetier-host, Octoprint, Astroprint 
√ Compatible with most slicer such as Cura, Slic3r, preform etc.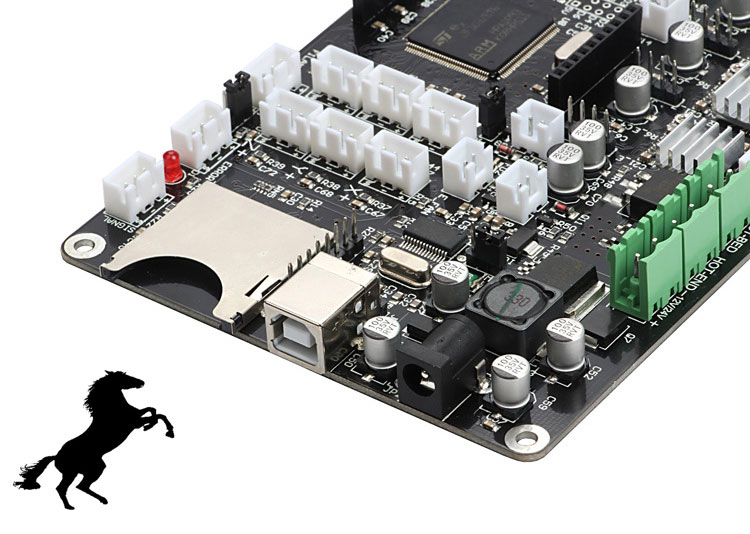 About ChiTu 
Compared to others 3D printer motherboards, especially open source motherboards with lacks of powerful print data and add-on the ChiTu motherboard don´t. The ChiTu motherboard was born to aid current and future 3D-printer manufacturers with a stable and easy to use 3D printer controller board. The Chitu firmware includes data and variables collected from different 3D printer manufacturers and in-house testing data by CBD-Tech. This said, this motherboard was originally mend for 3D-printer manufacturer that wants to offer its customer a 3D-printer with a real stable motherboard with professional support.
ChiTu is the first 3D printer motherboard from CBD Tech ltd. The board is equipped with a 32-bit high-speed ARM chipset (STM32F103ZET6) which results in high computing power which makes print outcome more detailed even if the speed is increased. CBD ChiTu also have functions that carries out repeated optimization, employing SD file configuration mode which equals to convenient and quick renewal.
The motherboard uses self-developed firmware, with all the advantage of open source firmware and recorded data and awesome features from CBD-Tech such as the firmware has experienced arc optimization, PID temperature stability optimization and can shutdown automatically after printing (the later need the power module to function). The firmware is closed source but uses a configuration file to anchor the firmware, which can be updated easily and quickly.
ChiTu are compatible for both delta, hbot and cartesian structured printers and consist of two different configuration files- one for cartesian printers and another one for delta/hbot structured printers.
CBD ChiTu mainboard includes a fast color touch screen, enjoying simple interface and high sensitive touchscreen.
ChiTu firmware supports breakpoints, which means you can print, then pause in the middle in the print, save the position, turn off the electricity and the next day you can resume to print again in the exact same position you left your print. This function works only if you have the power-add-on module.
Single and Dual Extruder CBD ChiTu Board Chart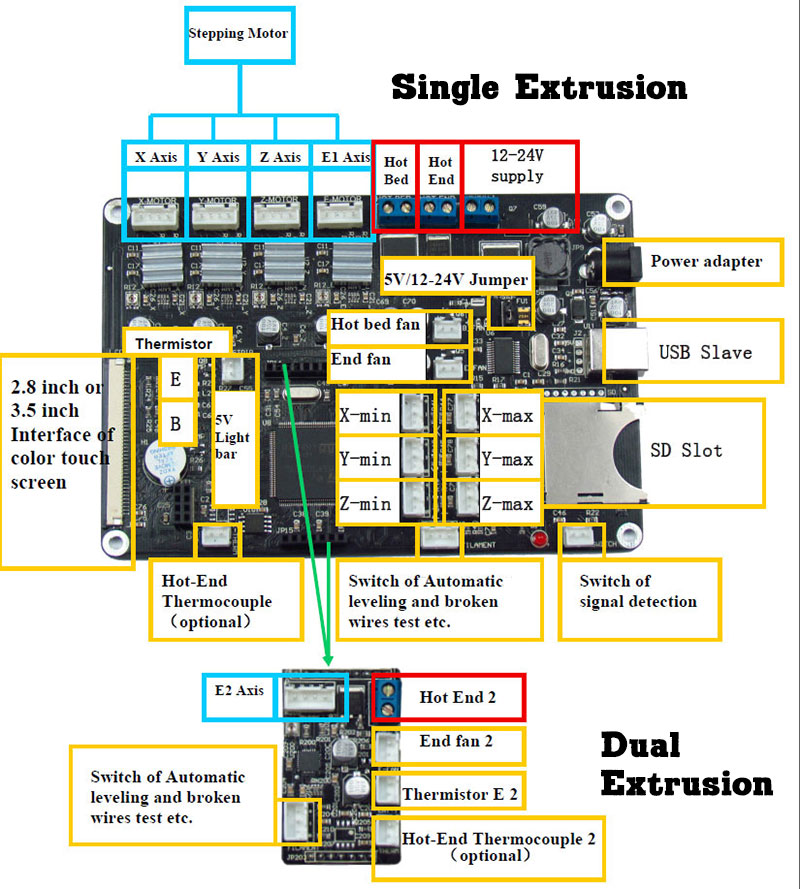 Product Data
External Dimension: 150x100 mm
Microprocessor: ARM chip STM32 (STM32F103ZET6)
Input Voltage: 12V~24V, 10~15A
Power Interface: Ordinary switch power supply or ordinary adapter
Auto leveling: Yes, the function is built in the firmware. It will activate on it self if your printer is equipped with "leveling limit switch" (not included).
Motor Driver: Allegro A4988 (1/16 microstepping). If you prefer other driver you can bypass the built in Allegro by simple plug in the external driver on the board. 
Motor Driven Interface: Single-end features 4 paths & 16 segments and double-end features 5 paths & 16 segments
Temperature Sensor Interface: 3 paths of 100K NTC (thermistor), 2 paths of MAX6675 (thermocouple)
Color Touch Screen: 2.8 or 3.5 inches of TFT
Connectivity: SD card, square USB that is convenient for plug and play; communication Baud Rate is 115200 (Wi-Fi if you have the Wi-Fi module add-on)
File Format Supported: G-code (CBD-Tech can customize the format to protect the format due your copyright)
Machine Structure Supported: XYZ type, Ultimaker type, Hbot type, Delta, Kossel and CoreXY type
Recommendation of Software: Cura/Repetier-host/Makerware/Simplify3d/CBD

Software provided from CBD-Tech: Yes, CBD Pro (in development for Windows)

App provided from CBD-Tech: Yes, both need Wi-Fi to work- Android and IOS (IOS english version TBA)
2.8 Inch Touchscreen Size: 60mmx100mm
3.5 Inch Touchscreen Size: 65mmx115mm
Manual: Yes full english manual and schematics
Drivers: Yes, full english drivers included
Expandable modules: Wi-Fi module (completely open communication protocol), extra power module , power module, SD card module and USB drive module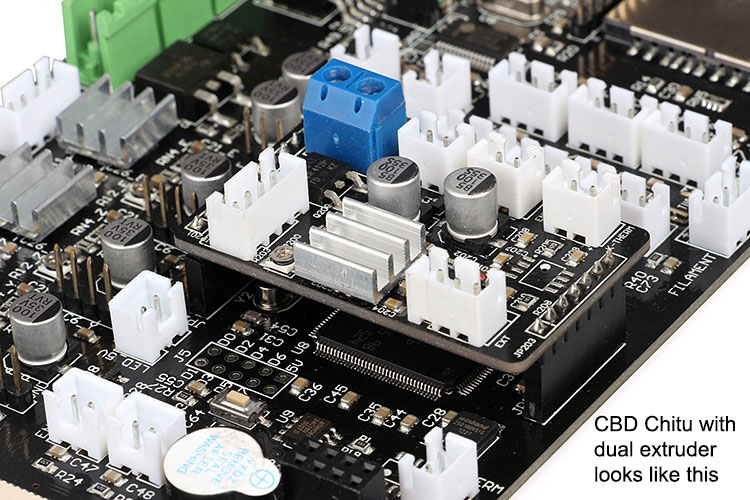 CBD ChiTu Types
CBD ChiTu comes in different types with different settings. Below is the different types available.
Type A: Single extruder motherboard (Thermistor) + 2.8 inch touch screen ( 81,90 USD)
Type B: Single extruder motherboard (Thermocouple) + 2.8 inch touch screen (85,90 USD)
Type C: Double extruder motherboard (Thermistor) + 2.8 inch touch screen ( 89,90 USD)
Type D: Double extruder motherboard (Thermocouple) + 2.8 inch touch screen (103,90 USD)
Type E: Single extruder motherboard (Thermistor) + 3.5 inch touch screen (88,90 USD)
Type F: Single extruder motherboard (Thermocouple) + 3.5 inch touch screen (92,90 USD)
Type G: Double extruder motherboard (Thermistor) + 3.5 inch touch screen (96,90 USD)
Type H: Double extruder motherboard (Thermocouple) + 3.5 inch touch screen (110,90 USD)
Volume Discount
Please contact us to view the discount and prices for different quantities. 
What includes when you buy the ChiTu board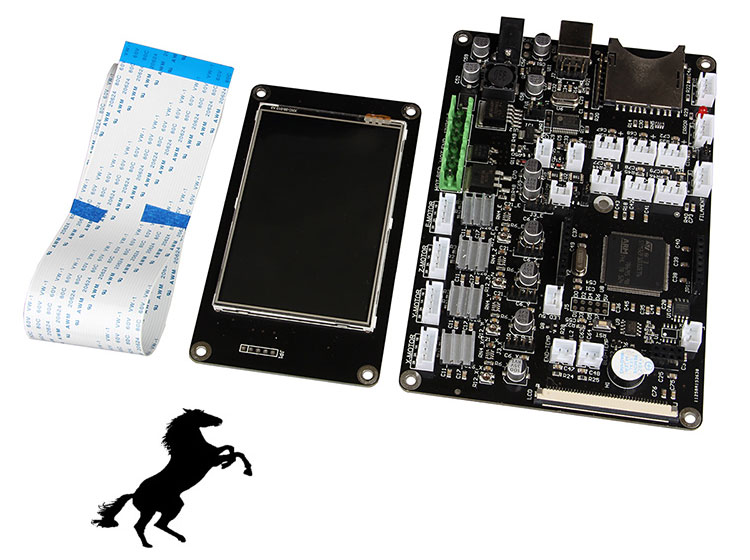 In the package you will find:
1x CBD ChiTu Board
1x Touchscreen
1x Flatcable to connect touchscreen to ChiTu board (50cm)
CBD ChiTu Types Add-on modules
For more information and price, please view the accessory tab.
WiFi Adapter: With this, you can control the machine and also send file through app and software via Wi-Fi to printer. Software and app including. Included software makes it possible to mass print with just one software. 
Power Module: This power module let your 3D printer equipped with the ChiTu save prints during printing process if electricity get cut and auto turn off electricity. 

Extra Power Module: This extra power module makes your board accepting more current without overheating.
SD Card Reader Modules: Add an external SD Card reader with our without extension cable. 
Services and packages
Currently, a lot of customization is available, for example the screen interface customization services is provided, offering you a platform to display your company name. Or the customization to change language as the system supports bilingualism, the language can be changed via one key.
If you want to know the actual price for the service, please contact us at ([email protected]). 
Example of service pack for "Touchscreen and interface Display"

Service Pack 1: FULL Touchscreen interface customization (you send us your complete design in PSD format and we implement it). 
Service Pack 2: LOGO Touchscreen interface customization (implementation of your company logo on the interface/startup screen, you need to send us your logo in psd format ). 
Service pack 3: Change some small information on the startup screen: FREE-Please download the ChiTu Modifier
Example of service pack for "APP Interface Customization"
Service Pack 4: App Android-Implementation of 1x Logo in the app (for screen size less than 5"). 
Service Pack 5: App Apple IOS-Implementation of 1x Logo in the app (for screen size less than 5"). 
Service Pack 5: Android App-Implementation of full design (for screen size less than 5"). 
Service Pack 6: Apple IOS -Implementation of full design (for screen size less than 5"). 
Service Pack 7: Implementation off full design or logo for Android/IOS app for screen size >5". 
Example of service pack for "Custom made Functions Customization"
Service Pack 8: Add a shortcut to let user change offset customization in the more button. 
It takes roughly 1-2 week to implement a design, depending on workload. You will receive the complete firmware by email with your unique service pack. This firmware can easily be flashed on any compatible ChiTu board.
App download


If you can not download with QR code, please use the download section at the bottom of this page to download the Android app. For IOS app download it at: http://fir.im/cbd3d


App download
Software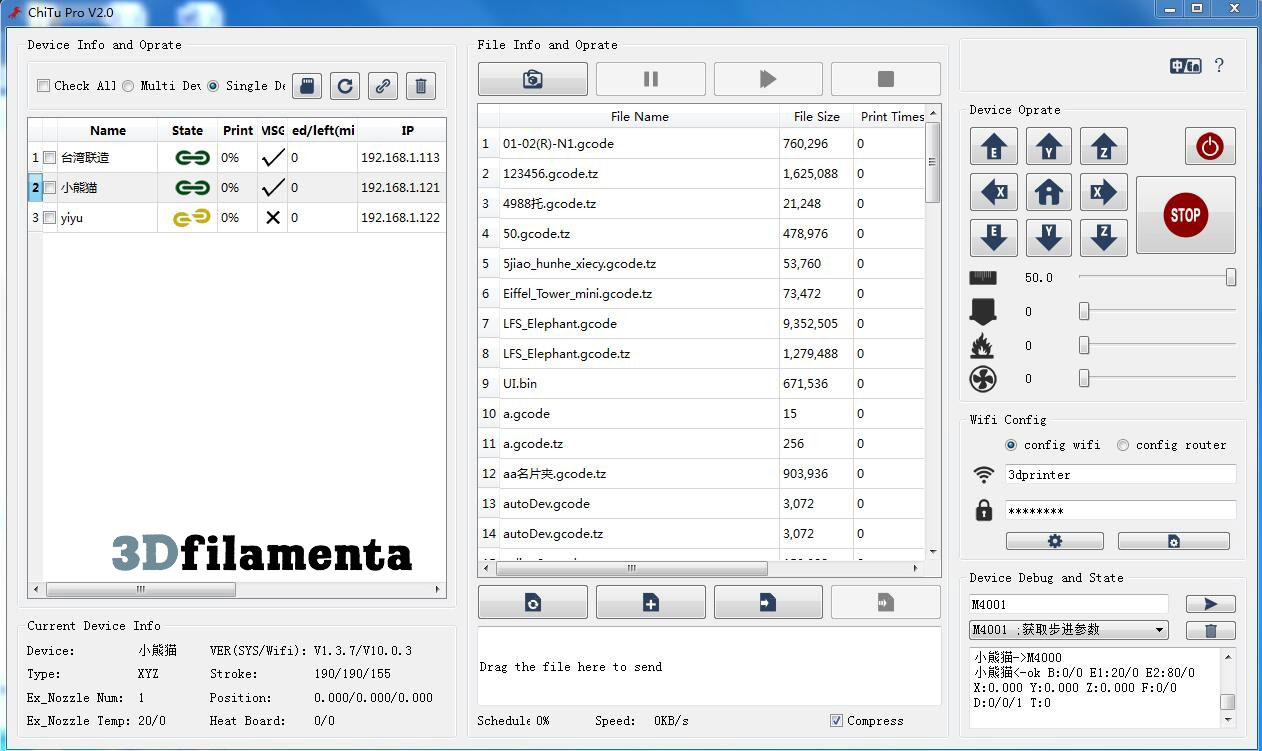 ChiTu Pro let you control multiple 3D printers equipped with ChiTu at one time. The only limitation is your router. Visit the official CBD-Tech forum and dowload the software.

Please visit 3Dfilamenta own private FAQ forum for ChiTu

For further information, please visit the official CBD-Tech homepage to download software, manuals and do it at their official forum: http://www.cbd-3d.com/forum/
Official homepage for the CBD ChiTu:
http://www.cbd-3d.com

Guide

How to config ChiTu (applies for all CBD Chitu boards)
ChiTu Drivers and Download (english version)
For module add-on drivers and manuals, please visit the responded product page for the specific module add-on at 3Dfilamenta. (All module add-on is displayed at the accessory tab of this product page).
Video:
https://www.youtube.com/watch?v=bkUVGP_JuWk&feature=youtu.be
CBD ChiTu On the net
3Ders-Huaway Technology exports over 31 500 3D Printers-uses Chitu board
3Dprint- CBD-Tech launches the Chitu board for international market