Buyers Guide - How to buy
Created: 2015-12-12
Updated: N/A
Author: 3Dfilamenta Marketplace
Email: [email protected]
Introduction
Firstly, a big THANK YOU for showing interest in our Marketplace.
Buying at 3Dfilamenta is easy and simple. This guide will walk you through step by step how to shop at 3Dfilamenta Marketplace from A to Z.
By being a buyer at 3Dfilamenta Marketplace sellers will grant you amongst all:
Minimum 14 days money back guarantee (no matter where you live)
Minimum 6 month warranty (no matter where you live)
An excellent customer service
(Sellers who do not grant you these privileges will be blacklisted from the Marketplace)
Abbreviations used in this guide
None
Contents
1. How to add product(s) to the shopping cart
To add one or several product to cart simple follow the instruction as of below.
A) To add a product or service to the basket, simple access its product page. In the product page there is a field called QTY (quantity), in this field you can choose how many quantity you want of the product or service. Use the "+" sign to add quantity or "-" sign to remove quantity.
B) If there is combinations (such as different color or sizes) for the product you need to select the correct combination.
C) Press the "ADD TO CART" button to add the product to the virtual cart.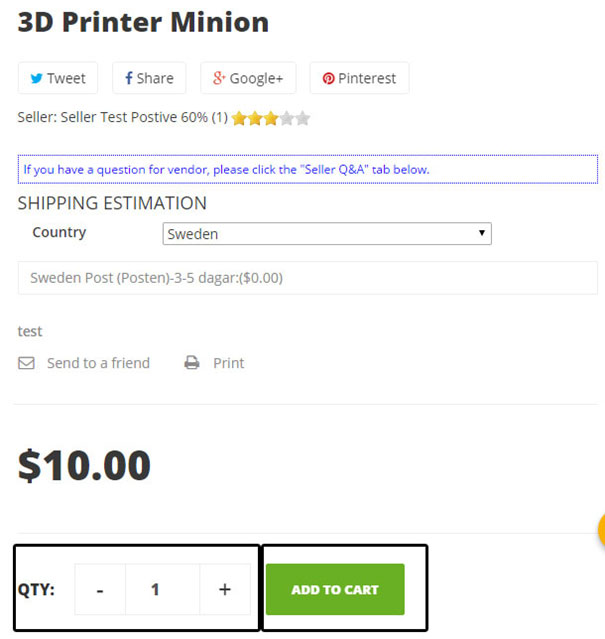 D) As fast as you have added a product to the cart, a pop up message will appear. The message will inform you that you have successfully added the product to your shopping cart.
You can either "continue shopping" by adding more product to the cart or simple "Proceed to checkout".


E) If you proceed to checkout you will be forwarded to the "SHOPPING-CART SUMMARY" page. This page is the first step of five to finish the purchase.
Before proceeding, please check the quantity and total price is correct. You can change the quantity (QTY) with the "-" or "+" sign or delete the product pressing the trash-bin icon.
To continue, press the "Proceed to checkout" button.



2. How to register a buyers account
A) You can register for a buyers account bythe sign up button at the top bar of the webpage (without needing to buy something) or directly at checkout. In this example we are going to register a buyer account by continuing from chapter 1-at checkout.
After adding product(s) to basket and continuing with checkout you will reach the "sign in page". At this page you will be prompt to log in to your buyers account. If you already a member since before, please input your email address and password and sign in.
if you do not have any account yet you cannot sign in. In order to sign in please create an account.
If you already signed in please continue to chapter 3.

Did you know!
Registering a buyer's account will let you assign a delivery address letting you get the most correct shipping estimate fee on store front!
B) Enter a valid email address on the "Create an account" field and then press "Create an account".
C) Fill in all fields and continue with the sign up process. Once all fields are filled in continue with saving the information.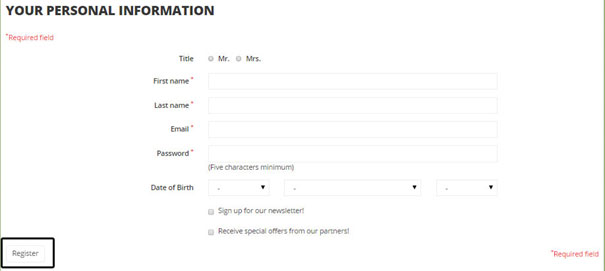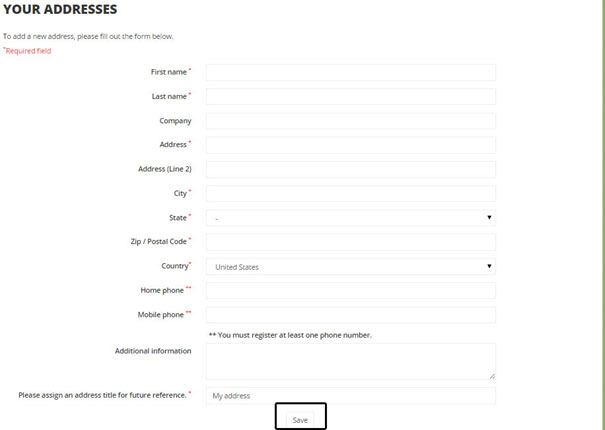 D) Once you have established an account you will also get a welcome email with your login and password. If you did not get any email, please check your spam box for it.
You can now place orders at 3Dfilamenta Marketplace.
3. How to check out with products or services from single or multiple sellers
As a buyer you can check out with products or services from different sellers at one go.
A) Once you have signed in, added product to the cart and checkout you need to choose delivery address. If the delivery address is incorrect you can simple update it or create a new one. You can create as many addresses you want and save multiple addresses in your account for future use.
There is also an option letting you add some comment for sellers for the order. If you checkout from different sellers, the message will reach all sellers.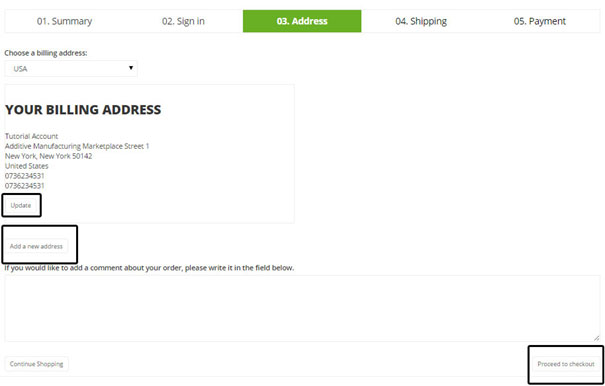 B) The following checkout process will lead you to the shipping page. In this page you need to select the shipping option that is most suited for you. Virtual products and services have free shipping but products normally have shipping fees.
Before you can proceed to the last checkout process you need to read and agree the Terms and Conditions.
Did you know!
If you buy from different sellers at one go, you need to pay shipping fee for respective seller, the checkout process will handle this automatically.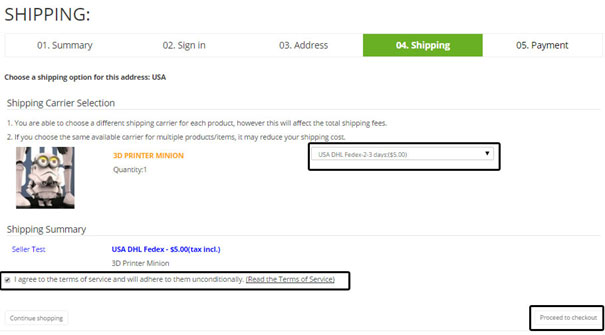 C) Proceed with selecting payment option. Currently you have the option to pay with PayPal or with Bank wire transfer. Please note that some seller do only allow either one of them or both of them.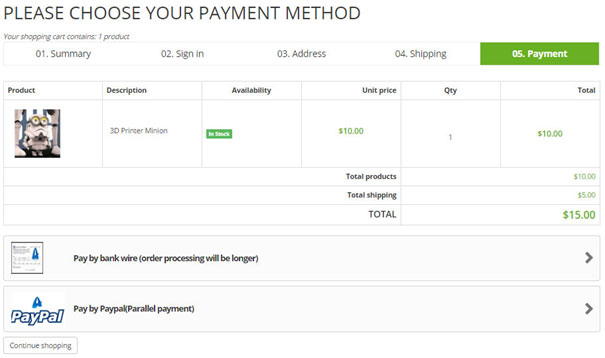 4. How to make a payment
In this section we are going to guide you through how to make a payment with bank wire and PayPal.
4.1 How to make a payment with bank wire
If you select to pay with bank wire you will get details directly on how to pay the seller(s).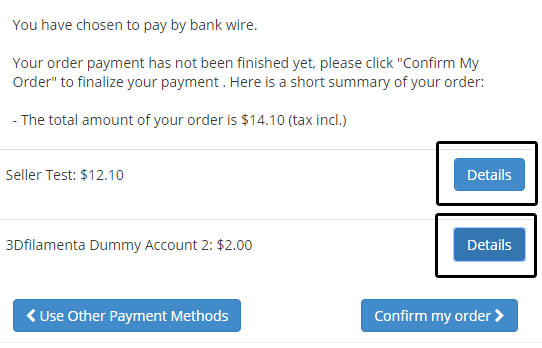 A) To view the details, simple press the "DETAILS" button.
In the example above we have bought products from two different sellers. In this case we must make separate payment to the sellers, hence two details button containing payment information from two different sellers.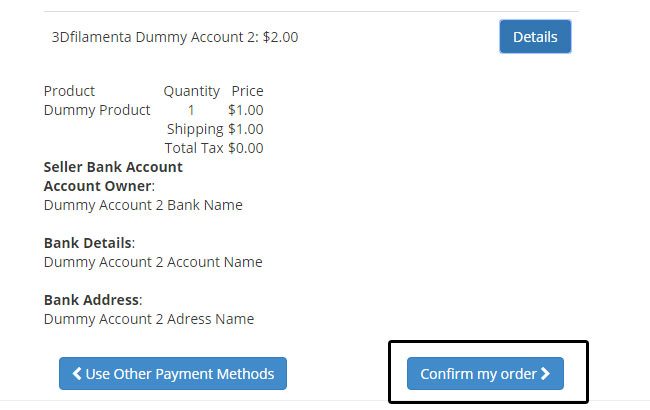 B) Once you have made a payment with bank wire you must directly notify the seller(s) through email that payment is done. Seller will then update the status of the order to either, "payment accepted" or "preparation in progress". You will get an email notification for every order status and you can also view the status at your account history at 3Dfilamenta.com
OBSERVE! When you make a payment by bank wire, it is very important that you input the order reference as a message or reference when paying with your local bank.
4.2 How to make a payment with PayPal
If you have selected to pay with PayPal you will be forwarded to a PayPal checkout side. In order to make a payment you can pay with your current PayPal account or with credit card. The choice is yours.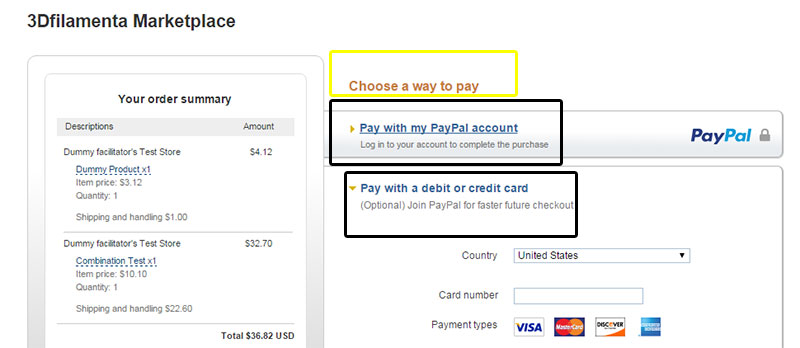 If you bought from different sellers in one go, the system will automatically calculate and let you pay all the sellers in one go.
As with bank wire transfer, all payment goes directly to the seller(s). No funds goes to 3Dfilamenta Marketplace.
5. Following your order status step by step
You can view all your order history at My account > Order history (make sure you already are logged in).
In the following page, you will get an overview of all your orders as well as the ability to download directly download invoice directly.
A) Select the "DETAILS" button to access the specific order.
Did you know!
The pdf invoice will only be available if seller update the specific order status to "payment accepted", "preparation in progress" or "shipped". If Seller have shipped your order but you still cannot download any invoice you need to contact the responsible seller to update the order status.

B) Once you have access the specific order, you can follow the order step by step. You can even send a message to the seller if you have some questions concerning the order.