Sellers FAQ
This is a short list of our most frequently asked questions from sellers which we think can be of help. For more information about us or if you need more support, please contact our customer service.
Index

Before we start the FAQ, by being a seller at 3Dfilamenta Marketplace you must honor the "Seller Terms and Conditions"
Following list is handpicked sellers highlights for the lazybones:
Offer minimum 14 days money back guarantee
Offer minimum 6 month warranty
Sellers always collect all payments from buyers
You must have either PayPal or bank wire to get paid from buyers
15% commission fee for all sales made≥ 200 USD
20% commission fee for sales made between 0-199 USD
Listing is free! IT IS ALL FREE-WE WILL NOT CHARGE ANY FEE AT ALL! NO SETUP FEE! NO SALES FEE! ALL FREE! 

Sellers with ≥ 20 USD in commission fee will get an e-invoice each month/time.
Select and establish different shipping fees for over 200 countries
To access your seller interface click on your profile then "My Sellers Account"
You can offer anything related to 3D printing
All sellers get an own virtual shop and private link
Violating the "Seller Terms and Conditions" will result to immediate blacklisting.

View our intro video for buyers here: PRESS HERE (YouTube, open in new windows).

After signup you basically need to:
1. Input your business information in the business tab
2. Input desired payment method
3. Establish a shipping carrier (no need for virtual files)
4. Establish productor service

5. We will review your product or service and once approved it will be visible on the site
What is 3Dfilamenta Marketplace?
3Dfilamenta Marketplace is an international online sales platform allowing anyone (private individual or business) to start a shop in the Marketplace and sell products or services related to additive manufacturing. All that is needed from you is a bank account to receive money and product or service to sell.
Why choose 3Dfilamenta Marketplace?
As a niche marketplace we believe we can in the long term gather interesting products and services in one place. By using our sales platform you will reach both local and international targeted audience easily. By focusing on additive manufacturing and mixing everything from sale of services, products, 3d models, and education in one place we eliminate the purpose of having different websites for different purposes related to the niche.
Becoming a seller at 3Dfilamenta is fast, easy and free. Listing products is free, we only charge a small commission fee for every sales made.
By using our Sales platform you can for example:
Get access to lots of international audience and access to befriend other manufacturer to establish sales partnership
Start a own store with own unique link and maintain a own cms page
Have your own company logo and business information displayed on the Marketplace
Establish your own private shipping carriers and set shipping fees on more than 240 countries based on price, weight, countries or region.
Let the system auto generate pdf invoices and sellers history
Choose to receive funds with Bank Wire transfer and/or PayPal
Let visitors and buyers communicate directly with you through product page
See and respond to reviews and ratings from customer
Set discount for products during different time periods
Sell Virtual files with download limitations
Manage and send notification message easily to buyers Start exploring and join us to make 3Dfilamenta a central place for additive manufacturing!
What are allowed to sell on 3Dfilamenta?
All kind of entity related to 3D Printing including can be sold at 3Dfilamenta. 3Dfilamenta is a niche marketplace and buyers come to us to either view or purchase additive manufacturing related product or services that they might not find anywhere else. Everything listed for sale at this website must be related to 3D-Printing, this includes hardware and software.
Example of things you can offer:
Hardware (3D Printers, Laser engraving machines, electronics, accessories etc.)
Consumables (Powders, filaments, resins, etc.)
Services (3D Modeling jobs, repairman, maintenance, tutorials, education, etc. )
Virtual files (software, 3d models, educations)
How do 3Dfilamenta differ from other Marketplaces in the same branch?
By having a sales platform with focus on additive manufacturing, 3Dfilamenta allows sellers to sell anything related to our focus. This means we are not only limited to one special product, instead you can find all kind of things related to 3D Printing for sale at 3Dfilamenta Marketplace. This also includes services such as maintenance, repair, 3D-modeling freelance job and so much more.
Further, sellers selling at 3Dfilamenta are not bound to sell locally, instead seller can reach an international target easily and setup international shipping prices for more than 240 countries based on price, weight, countries or region and set prices with built in sales-taxes.
Who bears the liability when buying from 3Dfilamenta Marketplace?
The liability on any product or service offered will always belongs to the specific seller. 3Dfilamenta Marketplace is mend to be a sales platform only.
All communication from buyer or visitor related to seller's product or service should be answered by the specific seller.
All fund transaction is always between you as the seller and the buyer. 3Dfilamenta will not receive any fund at all between seller and buyer, this is so called third party transaction.
Are prices displayed on 3Dfilamenta tax included?
All prices at 3Dfilamenta are displayed including tax, it is however up to the seller to include tax or not.
Does it cost to become a seller and list products or services?
Anyone can become a seller and signing up is free. You can list as many product you want for free.
IT IS ALL FREE-WE WILL NOT CHARGE ANY FEE AT ALL! NO SETUP FEE! NO SALES FEE! ALL FREE!


Is there any fee at all?
IT IS ALL FREE-WE WILL NOT CHARGE ANY FEE AT ALL! NO SETUP FEE! NO SALES FEE! ALL FREE!
Once you manage to make a sale we will charge a small commission fee on your total product price including tax. Currently the commission fee is between 15-20%. To know the exact fee, please read the "Sellers Terms and Conditions". Let us take a 20% provision example.

For example.
Sales Price: 100 USD
Sales Tax: 10 USD
Shipping cost including tax: 50 USD
Total cost: 160 USD
Commission fee=20%
____________
3Dfilamenta commission earning=22 USD ((0.20)*(100+10))
Seller earnings= 138 USD (160-22)

The commission fee will not be automatic deducted from your bank account or PayPal account directly, instead it will only be registered on your 3Dfilamenta account. We will each month issue a e-mail bill to you if your comission fee have reached at least 20 USD.
How do I pay the commission fee I own 3Dfilamenta?
If your total commission fee are at least 20 USD during the invoice period we will at the end of each month send you an email invoice. You can either pay the commission fee to us with bank wire transfer or credit card.
IT IS ALL FREE-WE WILL NOT CHARGE ANY FEE AT ALL! NO SETUP FEE! NO SALES FEE! ALL FREE!


What happen if I do not pay the commission fee in time?
If you are late with paying your invoice to us we will freeze your seller account until payment is done. Once payment is done we will un-freeze your account.
IT IS ALL FREE-WE WILL NOT CHARGE ANY FEE AT ALL! NO SETUP FEE! NO SALES FEE! ALL FREE!


I am a 3D-Model designer, am I allowed to give away free 3D Printing Designs?
Free things is always good things (well in most cases). 3Dfilamenta features both Creative Commons Non-Commercial designs and commercial designs. This said, yes you are allowed to give away free designs as well as sell it.
What about Creative Commons License?
You are allowed to upload and sell or give away free designs. As an owner of the design you are free to give it away or sell it under any Creative Commons Licenses. The best way to display it is in the product page for your product. However If there is no Creative Commons Licenses information in the product page you agree that the designs you uploaded are default under the CC BY-NC (Creative Commons Attribution Non-commercial).This means that you allow others to use, distribute, redo, modify and build upon your work, but the work must not be used for commercial purposes. If the work is used for commercial purposes then the author must be stated.

FYI the licenses is prebuild in the feature section when establishing the product. You can select which license to use for the product. The information will then be viewable under the datasheet tab on the product page.
Do 3Dfilamenta offer an encrypted 3D Printing Platform such as stream 3D designs directly to 3D Printers without exposing the original file to 3rd parties?
Streaming is a good way to protect your design, however as not many 3D printers are supporting this yet we have not implemented this function on our Marketplace. In the future we may implement it, but for now all designs will be digital distributed and shared designs will be available for direct download.
Why can I only upload rar and zip file for virtual files?
We do that in order to save disk space and let buyers download faster. For example a .stl file who are 50 MB can easily be compressed to 5MB and we believe this is the best option.
I just added a new product but I can´t see it on the store, why o why?
After establishing a new product your product must first get approved by us before it goes live. We do this in order to control if the content uploaded to our site is appropriate or not according to our "terms and conditions".
Are there any handbook that can guide me through how to establish new product for sale at 3Dfilamenta?
Yes, please visit our section "Sellers Guide". You can find this section in the "Seller Service" drop down menu.
I can´t find my product in the category I assigned it to, why?
You may have put the product on the wrong category. Please go to your product and edit it. On step 04-Association you can fill in which category the product should belong to. Remember that if you do not check the main category your product will only be visible in the sub category.
How do I set a fixed price or discount for a product for a certain country or currency?
When you set the product price, there is a section called "Price & Discounts". In this section you can manage both product price and specific price. The specific price is the section where you set the fixed price.
Press the "Add new specific price" and a drop down menu will appear letting you set discount or fixed price for the product.
For example if you want Canadian customer to have a special price you need to set the setting as follow:
For: Currency: CAD (Canadian dollar), Country: Canada, Group: All groups
Un-tick the "leave base price" and insert your price (in CAD).
The product will now cost as the price you just inserted only for buyers from Canada and if Buyer check-out with CAD as currency.

At the same section you can also set discount in currency or percentage.
How are the different tax-rule working?
Taxes are complicated however we have done our best and have taxes pre-build in the system. All you need to do is to choose the correct tax for your product/service. In the system we have taxes such as valid only for your country, valid for only EU countries, valid for all countries and no tax.
When you set tax-rule for a country that is part of European Union ("All Country Sales Tax" tax-rule excluded), this tax rate will apply to all other European countries automatically according to the tax-rule for European countries. All other countries will not be charged any tax.
When you set tax-rule for a country ("All Country Sales Tax" and non-European countries excluded), the tax-rule will only apply to the country. All other countries will not be charged any tax.
If you want all countries to have tax included (all country will be charged tax), you are obligated to choose "All Country Sale Tax" tax-rule, and the tax-rule will apply to all countries.

If you do not want to sell with any tax, you are obligated to choose the "No tax" tax-rule.
How do I setup shipping carrier?
3Dfilamenta Marketplace let you establish your own private shipping carriers and set shipping fees on more than 240 countries based on price, weight, countries or region.

On each product you can insert weight and price. The weight or price on the product will decide the shipping cost you have set on the shipping carrier you have established.

The picture below illustrates a shipping carrier with shipping fees for China that can be based on weight or price.
In this case If a product is set to be between ranges 5(included) to 10 (excluded) then the shipping fee is 20 (USD).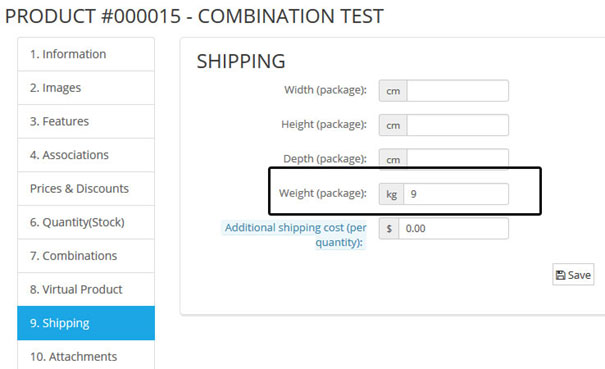 You then of course need to set the product to be between 5(included) to 10 (excluded) to get the product getting the correct settings of having a shipping cost of 20 (USD).

Please note that if you set the carrier to be based on price the ranges will be based on the product´s price while if you set the carrier based on weight the product´s weight will decide the shipping cost.
How do I setup shipping carrier or a product to have free shipping?
There is two ways to make a product have free shipping.
Establish a carrier with selected countries and do not apply shipping fee on it

Establish a carrier with selected countries and apply shipping cost on it based on weight. Add a range 0-0.1 and set it to 0. For the product you should then set shipping weight as 0. The result will be shipping cost= 0.
For virtual products, do I need to setup shipping cost?
A virtual file is a downloadable product and no shipping is needed. Leave the shipping setting on the product as default (0). When proceeding to checkout no shipping will be needed.
For service, do I need to setup shipping cost?
Unless you do not need send something no shipping is needed. Simple leave the shipping setting on the service as default (0) and assign it to a shipping carrier that have free shipping. Or in other words, treat it as a product and make it have free shipping like you do for any other product.
The invoice generated to my buyer needs some changes, where do I change it?
Most of the layout and text in the invoice generated to your buyer is fixed, you can however change your company logo and business information by updating it in yours my seller page in the "my business" tab.
How do I make an own Terms and Conditions for my store?
3Dfilamenta Marketplace facilitate a global Terms and Conditions rule. For buyers and visitors it means there will only be one Terms and Conditions that needs to be agreed on upon visiting or buying at 3Dfilamenta. All sellers will agree upon this terms and conditions upon selling. That said you do not need a private "Terms and Conditions" for your store, you can however add some extra information on your "About us" page, for example detailed delivery time, extended warranty, extended refund time etc.

Important highlights from the Terms and Conditions:
Always give your buyers at least minimum 14 days refund time
Always give your buyers at least minimum 6 month warranty time
Always update the order status for an order
Can I put my account on hold while I go to vacation?
If you need to pause your store or would like to temporarily remove your open listings but still want your products or services to be visible on the Marketplace you need to set the qty of the products/services to 0 and make sure the setting on it is set to "When out of stock: deny orders" .
Another option is to write at the product page that you are on vacation.
If you need to pause your store or would like to temporarily remove your open listings you can either disable the product/service at your sellers setting page for the product/service or simple send us an email to paus your account. This will result to your product or services to vanish from the Marketplace temporary. If you have emailed us to paus your account you need to email us to activate it again.
Which payment options are available?
Currently we offer our sellers to accept payment directly from buyer with PayPal or Bank wire transfer. It is up to you to decide which one to use.