Intro
The AlSi10Mg aluminum powder is a powder that is specially optimized for shaping objects in SLM technologies, this includes the company EOS Selective Laser Melting technology, for example the EOSINT M series. Further is Arcam series, ConceptLaser series, Renishaw series, 3Dsystems Series and other companies with selective laser melting technology or EBM (Electron Beam Melting) technology.
Buying Requirements
Material and spherical size can be tailored according to your demand. Material and production process are all patented and approved for commercial use.

Order will be custom made as we do not have this in stock for immediately shipment.

Minimum Order Quantity is: 20 KG per order.

Sample can be provided (varies from 500 gram to 2KG). Please checkout with sample, freight is included in the price. 

Price is not including shipping cost when order none sample. You will get a seperate invoice for shipping. For big orders we or you can arrange boat shipment.

(Estimated shipping cost is 15-25 USD/KG to EU and USA through air)


"Please contact us before making any order!

 "


We offer most of the materials available in the market, please contact us and we will establish the product at the store.
Summary
AlSi10Mg is a typical aluminum casting alloy with good casting properties, typical for complex automotive prototype parts or industrial complex parts, aerospace parts, machinery, petrochemicals, electrical -and other industrial parts. It has good strength, hardness and dynamic characteristics, and therefore components are used to a high load. In the design of such steel, main consideration is a good thermal processing performance and lightweight. After being formed in a SLM machine and after the treatment, it can continuously be processed and be machined if there is such demand. EDM, welding, shot blasting, polishing and coating is perfectly fine.
Compatibility
SLM, SLS, Laser Cladding, EBM and other technology based on the same functionality.
Internal Quality System Certification Data
Internal Quality System Certification Data

 

 

 

 

Chemical composition

Al (balance)

Si (9.0 – 11.0 wt-%)

Fe (≤0.55 wt-%)

Cu (≤0.05 wt-%)

Mn (≤0.45 wt-%)

Mg (0.02 - 0.45 wt-%)


Ni (<0.05 wt-%)


Zn (0.05 wt-%)


Ti (≤0.15 wt-%)


P,S (each≤0.01 wt-%)


Density

2.67 g/cm³

Granularity

-250

Sphericity

≥95 %

Recommended thickness

30, 40 μm

Bulk density

59.3%

Relative density of formed parts

Close to. 100 %
Close up powder illustrated as follows (SEM)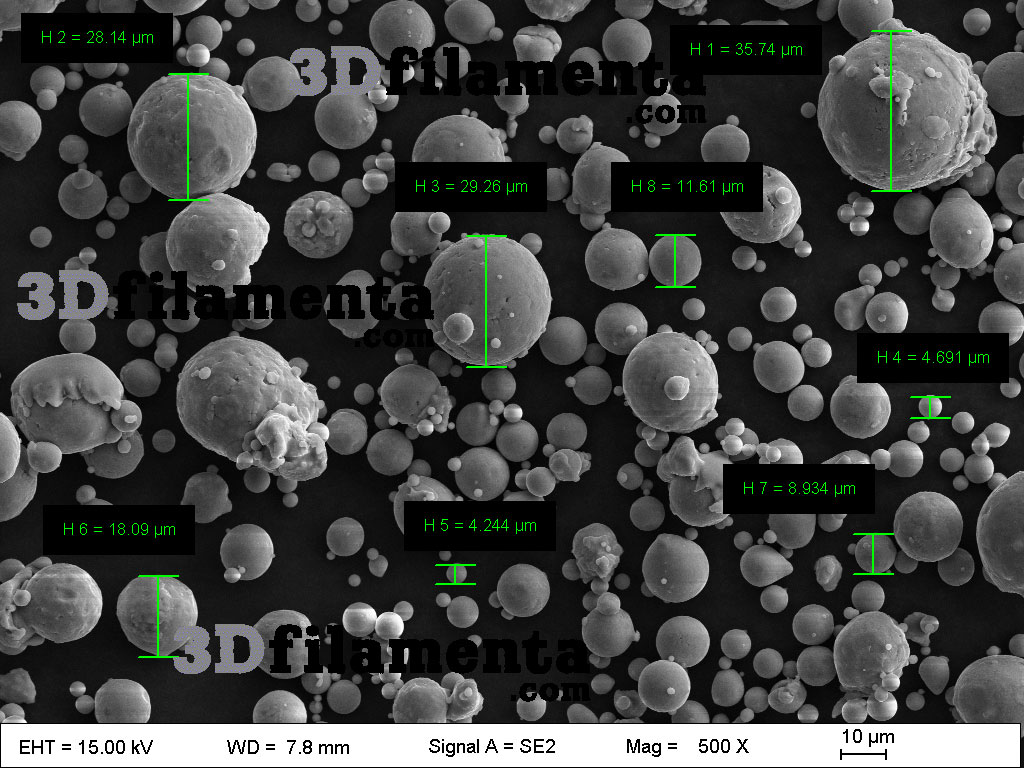 Formed parts mechanical properties


 Powder Rapid Prototyping Parts Related Indicators

 

As built

After age hardening

Typical achievable part accuracy

 

 

- small parts (< 80 x 80 mm)

-approx. 50 μm

 

- large parts

-approx. 90 μm

 

Surface roughness

 

 

- as manufactured

-Ra 14 - 20 μm, Rz 80 – 110 μm

 

- after shot-peening

-Ra 6 - 10μm, Rz 19 – 48 μm

 

- after polishing

-Rz up to < 0.8 μm

 

Ultimate tensile strength (include horizontal and vertical direction)

typ. 440±30 MPa

typ. 320±25 MPa

Yield strength (Rp 0.2 %)
(include horizontal and vertical direction)

typ. 270±20 MPa

typ. 220±10 MPa

Elongation at break (include horizontal
and vertical direction)

typ. (7± 3 ) %

typ. (10 ± 3) %

Hardness

120 ± 4 HBW


 

Thermal conductivity



Approx. 100 ± 4 W/m°C


Approx.170 ± 8 W/m°C

Parts Printed with this material